Kimpton Hotels & Restaurants will soon be opening the boutique Kimpton Sylvan Hotel as an adaptive reuse of the 1950s building located at 374 East Paces Ferry Road. In addition to offering 216 guest rooms and 4000 square feet of conference and meeting space, the plans also include a restaurant by the name of The Betty, a garden Willow Bar, and rooftop bar and lounge The Julep.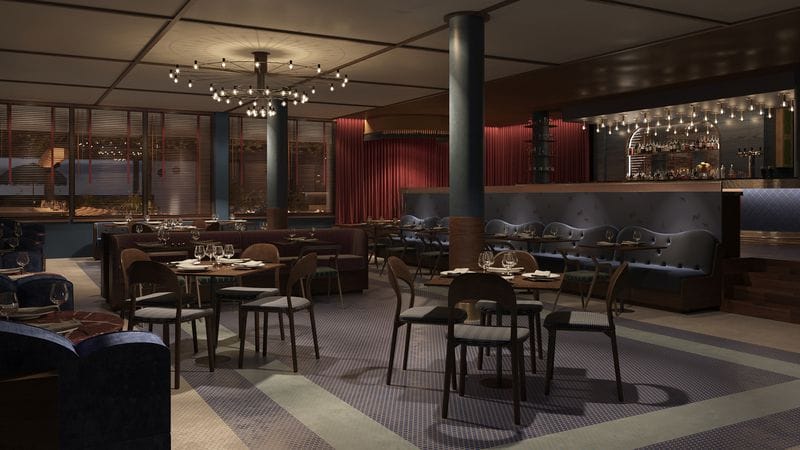 Helmed by Executive Chef Brandon Chavannes, formerly of St. Cecilia, The Betty will feature a modern spin on classic continental cuisine in a supper club format. Open for breakfast and dinner service initially, you can expect dishes like beef cheek stroganoff, black pepper gnocchi, shrimp cocktail, and salt-baked fish with artichoke and truffle. The bar will be serving classic cocktails, craft and local beers, and an old and new world wine list. Aesthetically, the space's dining room, elevated bar, and outdoor patio will highlight rich wood and leather set against marble accents. 
The Willow Bar has been designed around a willow oak tree as a type of hidden garden behind the hotel. Tucked away just off green pathways through the space will be cozy nooks for dining and drinking in the open air space. Sourcing from local farms, the mostly plant-based menu will offer small plates such as smoked shiitake, jerk cauliflower, and a chef's charcuterie picnic basket with fried chicken. The drink menu includes white and rosé wines, spritzes, cocktails, punches, and a beer list. 
Visitors to the Julep on the 9th floor rooftop of the Kimpton Sylvan Hotel will enjoy city views, neon signage, and whimsical design. The outdoor and partially-enclosed spaces will also host a rotation of live DJs. You can expect elevated party food such as corn dogs and burgers, boozy soft serve ice cream, cocktails, margaritas, and aperitifs on the menu here.
Kimpton Sylvan Hotel will embrace mid century modern design aesthetics and offer amenities such as a private pool, morning coffee and tea service, evening social hour, "Forgot It? We Got It!" program, complimentary public bicycles, in-room yoga mats, fitness center and a liberal pet-friendly policy. The hotel and restaurants are set to open in early 2021.