An excited crowd gathered this past Wednesday at the Buckhead Theatre to get a first look at Phase I concept drawings for the ambitious Park Over GA400. The Buckhead Community Improvement District's (BCID) board presented a nearly half-mile long park that "provides ample capacity for plazas, lawns, gardens, pavilions and more. A defining feature of the design includes an allée of high-canopied trees running the length of the park that blends with Atlanta's urban forest canopy and creates broad shade and memorable open space from Lenox Road to Peachtree Road."
A very exciting part of this new design are the flyover walking paths that allow the existing Path400 trail to connect directly through the center of the park and pass unimpeded over Lenox and Peachtree Roads. Integrating the new park so directly with the miles of existing trails on either side will greatly enhance access and usability of both the trail system and the park.
Renderings by Rogers Partners Architects + Urban Designers.
The much-needed green space in the form of a park in the sky (also called a bridge park) over GA400 will span airspace between Lenox and Peachtree roads, including the Buckhead Marta station as seen here looking North.
Rogers pointed out that the previous design renderings, showing a continuous park covering the MARTA Buckhead rail station and GA400, would create a tunnel and the need to ventilate and deal with such issues as fire escapes. So, the concept team artfully designed a park that would pull away from some sites along the east and west perimeters, while retaining the linkages and maintaining the walking and biking paths. This new design brought the park acreage from 9 acres to 6 ½-7 acres.
The next step for this project is to determine public support, continue engineering, and start the process of identifying the public and private sources of the funding needed. It will require at least $190 million to complete the park.
This project bears similarities to Klyde Warren Park, a 5.2-acre bridge park that sits above a freeway in the heart of Dallas, Texas, so we caught up with their park president, Tara Green, for insight on how that park has impacted Dallas since it opened in 2012.
"The impact on the economy and community has been fantastic," says Green.
"Real estate around the park has increased anywhere from 30 to 50 percent; rent has increased 20 to 30 percent, and there has been a tremendous shift in the downtown/uptown area. The park has created a connectivity where none existed before, and we host 13,000 programs and events annually, all of which have been free to the public."
And does Green have any advice for Atlanta as we pursue our own signature park?
"Every community is unique and needs its own unique business model, but I would challenge any community to create beautiful green public space, which would undoubtedly improve the quality of life and real estate values…it would be a great value to the city no matter what," she says.
The Klyde Warren Park, Dallas Texas
We also thought it wise to get input from Sam Massell, long-standing Buckhead Coalition President and former mayor of Atlanta, known for his annual 'state of Buckhead' speeches. He shared: "I think it's a wonderful idea and shows vision and creativity and would feed the quality of life we want to nurture in Buckhead." And as for how the community itself will react to the proposition, Massell believes it will be nothing but positive: "When GA 400 was first built, there was a general sentiment that it was dividing the community, spreading it out and cutting off access from one side to the other, but this park would bring it all back together and reconnect the community."
Both Durrett and Massell voiced that it could be close to a decade before the park is actually completed and open to the public, but both think it is very feasible that it will come to fruition. "I'm a glass half full guy," Durrett shared. "I think this is a really great idea, and I think when I finish my career here at CID, I'll be really pleased with what we've created on top of 400, between Peachtree and Lenox."
The extensive studies for the construction reveal that building the signature park over 400 is completely possible, without any "fatal flaws." The Buckhead CID studies and planning take all possible factors into careful consideration. Five stages of development encompass the current plan to construct Buckhead's crowning achievement.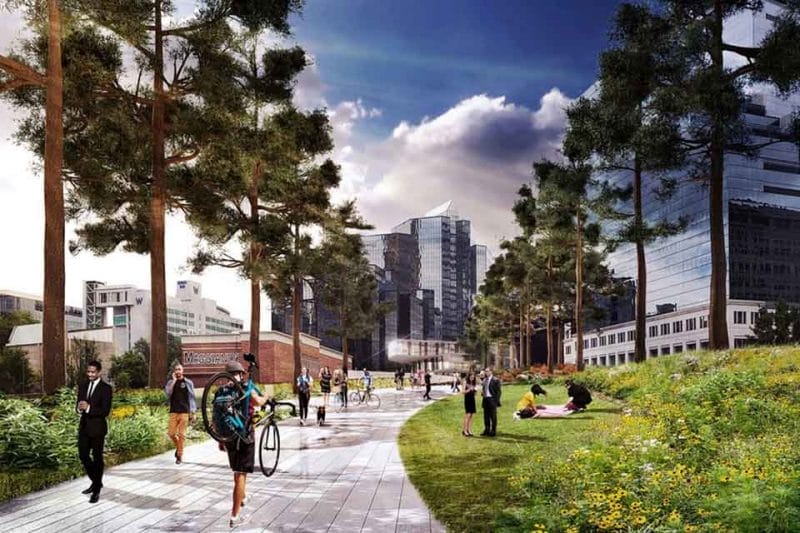 Tell us your thoughts! What do you like or dislike about these plans? Will the new park be part of your commute?