We have been covering the Phipps Plaza expansion since it was first announced in 2018. The final part of the renovation, Citizens Market Atlanta at Phipps Plaza, joins the Nobu Hotel, Life Time Fitness & Life Time Work, and One Phipps Plaza. According to the developers, "The reimagined Phipps Plaza is an unrivaled mixed-use development that redefines the way Buckhead lives, works, plays and shops."
Citizens Market Atlanta is a culinary market occupying 25,000 square feet on the lower level of the Life Time building. The concept by C3 features eight chef-driven restaurant brands offering "fast-casual" dining for breakfast, lunch, and dinner seven days a week. Guests can enter the Citizens Market from outside or through Phipps Plaza's lower level. Covered parking is available in the parking deck behind Nobu on Phipps Boulevard.
Much more than a food court
The space is a far cry from what you might expect from a dining experience attached to a mall. Citizens Market feels more like a restaurant than a food court. Indoor seating, designed by David Rockwell, includes high-tops, banquettes, and upholstered ottomans. Diners can also enjoy a variety of tables and benches outside on The Green, the manicured greenspace between the Life Time and One Phipps Plaza buildings. Each restaurant currently offers grab-and-go service, but a full-service area will be open soon for dining in.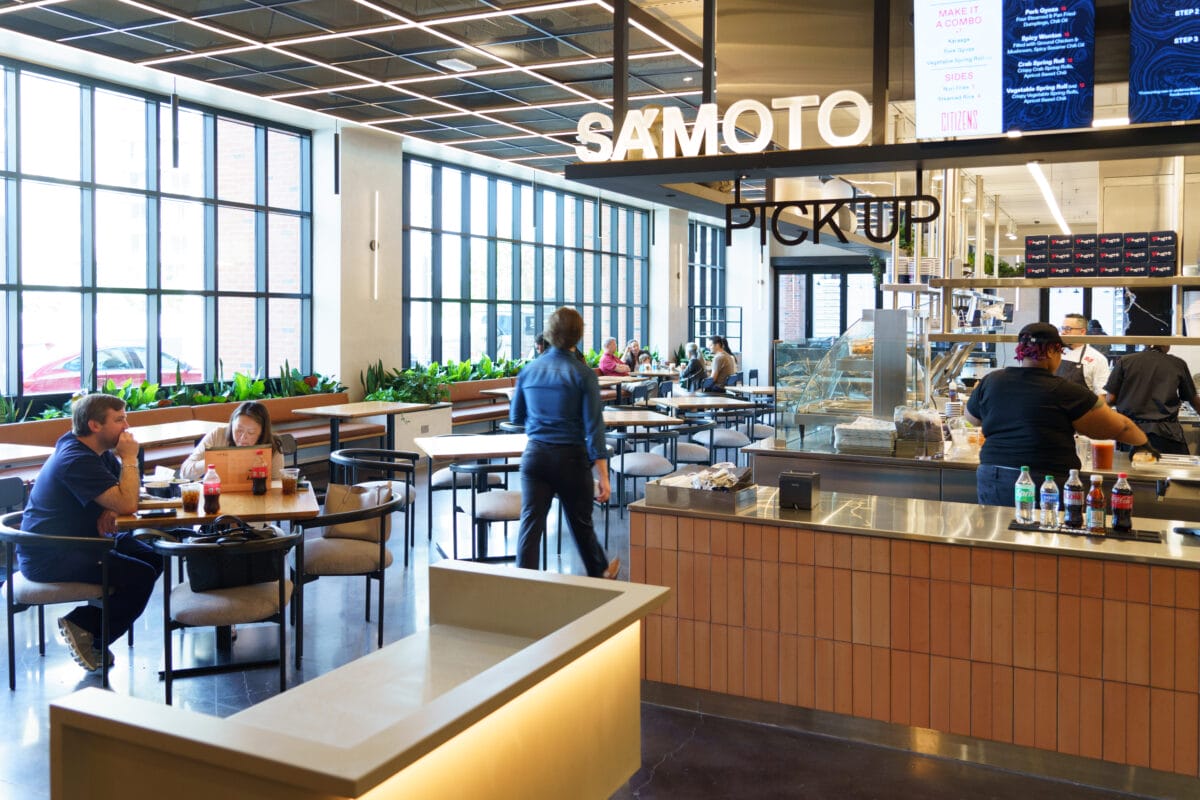 Restaurant counters surround the indoor dining area. Cohesive signage and design throughout the market adds to the high-end vibe. The only real individual touches are the menus above the ordering counters. LCD panels display the menus and feature unique designs for each culinary brand. If there is a down side to this design, it is that it takes a bit of exploration to determine what each counter is selling. For example, the counter at Cicci Di Carne doesn't give much hint to its Italian butcher shop concept, or the delicious sandwiches they make.
Citizens Bar is an indoor/outdoor bar featuring craft cocktails and a variety of beers, showcasing many local brands. Guests can enjoy the full-service bar from counter seating indoor or out, or from the extensive patio seating on the Green. Citizens Bar is consistently among the most popular vendors in the market, according to Assistant General Manager Ben Richards.
Creating Culinary Communities
C3 (Creating Culinary Communities) was the brainchild of Sam Nazarian, launched in February 2020 as a partnership between sbe Entertainment Group, Simon properties, and Accor to pioneer new culinary technology. C3 jumped into the ghost kitchen space as the COVID-19 pandemic shuttered restaurants across the country. The group partnered with acclaimed chefs like Dani Garcia, Masaharu Morimoto, and Dario Cecchini to build restaurant brands designed exclusively for carryout and delivery. These partnerships led to restaurants like Krispy Rice, Umami Burger, Ella Mia, and the other restaurant concepts you find at Citizens Market Atlanta at Phipps Plaza.
Ben Richards discussed the transition from delivery-only concepts to brick-and-mortar restaurants, "When Sam Nazarian started the C3 fast casual concepts, they started as ghost kitchens." He continued, "Conveniently, he started [C3] right before COVID when all the ghost kitchens popped off, and they became pretty recognizable brands. It's fun to bring the packaging and everything to life in a freestanding operation like this."
A different kind of food hall
Even though Citizens Market Atlanta features eight different culinary concepts, they are all overseen by executive chef Jeremy Weaver. The eight open kitchens and corresponding service counters are essentially branches of the same restaurant. This concept sets Citizens Market Atlanta apart from other food halls in the Atlanta area that rely on multiple restaurants, with individual chefs, leases, decor, etc.
Chef Weaver oversees the execution of each restaurant's cuisine according to the acclaimed chefs who created the concepts. The connection between restaurants allows for streamlining measures that are not possible with individual restaurant vendors. Ingredients such as pickled onions, sauces, and more can be shared between restaurants to save time. If one counter is busier than another, staff from a less busy counter can join in to help cover the rush.
Open kitchens behind each counter are used for food preparation, but there is more going on behind the scenes. There are multiple coolers and an additional prep kitchen three floors below the Citizens Market where food storage and prep is handled for all of the restaurants. "It's all open and you see a lot of work going on here." Chef Weaver said, "But there's more going on downstairs."
Another advantage to the common management of the food hall is the ease of transition if C3 wants to replace one of the restaurant concepts. Chef Weaver explains, "If we make a space change, it will probably be unnoticeable except for one day it was here and tomorrow it is something different. Everything really is plug and play, so that is an option for us. It's not in the plans right now. But the flexibility of the space was thought of [in the design]."
Culinary offerings
After sampling several dishes from various vendors at Citizens Market Atlanta at Phipps Plaza, we can enthusiastically recommend that you visit Buckhead's newest food hall. Residents we spoke to said they are already visiting Citizens Market multiple times per week, and we were thrilled to see the market already busy with the lunch crowd just a few weeks after opening. Check out the full list of culinary concepts below, and we will see you on the Green this summer!
Umami Burger: A rich and savory taste sensation that goes beyond the commonplace flavors of sweet, sour, salty, and bitter. Umami is the fundamental element of the Umami Burger experience. We make the most craveable burgers known to man.
Sam's Crispy Chicken: A fast-casual dining concept offering Southern-fried chicken specialties, 100% antibiotic and hormone free. Sam's Crispy Chicken specializes in crowd-pleasing, hand-battered, cornflake-crusted, all-natural chicken sandwiches done right.
Krispy Rice: An elevated sushi experience that's anything but ordinary. The menu centers around the iconic Krispy Rice dish alongside handrolls, maki cut rolls, nigiri, and chef-curated combinations. All fast and fresh.
Sa'Moto: A collection of Iron Chef Masaharu Morimoto's most loved Pan-Asian dishes, merging Asian flavors, Japanese techniques, and American spirit.
Ella Mia: (Open for breakfast at 7:00am) A modern and sophisticated coffee shop that brings guests a slice of craft coffee culture. Ella Mia serves breakfast, lunch, and early dinner, including breads, sandwiches, and soups rich with an international flair.
Cicci Di Carne by Dario: Centered on the local deli and butchers' shop concept, with a menu helmed by world-renowned Butcher Dario Cecchini, known as the "world's best butcher."
El Pollo Verde: El Pollo Verde by Dani Garcia offers roasted organic chicken and Spanish-inspired salad bowls on the menu courtesy of Three Michelin-Starred Chef Dani Garcia, who is the creative-force behind renowned Casa Dani.
Soom Soom Fresh Mediterranean: Soom Soom serves authentic Mediterranean pitas and wraps packed with flavor in dishes like Chicken Shawarma, Kabobs, Classic Hummus, and Falafel served with housemade tahini.