There are myriad reasons you might consider treating yourself to a staycation. A staycation is a great way to celebrate birthdays, anniversaries, or any other reason you may want to get away from your daily grind.
In case you aren't familiar with the term, a staycation is basically a brief vacation you enjoy without leaving your home or neighborhood. It is often challenging to relax within the confines of your home because of chores or unfinished home projects that may tempt you to work through your staycation. A stay in a local hotel is a great remedy for this problem, and one that can provide a different perspective to the streets you may travel every day.
Buckhead has no shortage of venues that are perfect for a weekend away from home. Buckhead Village has hotels ranging from hip new "lifestyle hotels" like the Thompson Buckhead and Kimpton Sylvan, to Buckhead's luxury classics like the St Regis. Each of these properties boasts renowned restaurants and easy walking to Buckhead Village shops.
Opened in November 2022, NOBU Hotel and restaurant is part of the recent major expansion at Phipps Plaza that includes Life Time Fitness, Life Time Work, and Citizens Food Hall. The five year process of expanding the mall has resulted in an unmistakable shift from just a high-end shopping center to a multi-use destination for Buckhead residents and visitors alike.
We had a chance to experience the NOBU Hotel and restaurant along with the other new properties at Phipps Plaza, and we would be hard pressed to think of a better place to spend a staycation weekend in Atlanta. Our staycation to-do list offers just a few ideas to get you started planning your next Buckhead getaway.
NOBU Hotel and Restaurant
NOBU Hotel Atlanta is one of just 15 NOBU hotels in the world. Designed by Rockwell Group, the understated elegance of NOBU Atlanta is a quiet contrast to the busier designs found in some other high-end hotels in the neighborhood. Clean lines and natural materials create a calming atmosphere where the decor doesn't distract from your experience.
The simple elegant design continues into the guest rooms. The hotel includes 152 guest rooms. Accommodations include 400 sqf deluxe rooms, 600-800 sqf suites, and the remarkable NOBU Villa that occupies 2,138 sqf on the 9th floor. A deluxe room can be reserved for a very reasonable $280 per night. 
The 9th floor NOBU Villa is a dramatic penthouse with a living room, dining room, private bar, and guest bath in addition to the private bedroom with ensuite full bath. Guests in the NOBU Villa enjoy direct access to NOBU's rooftop pool terrace. The entire 9th floor can be reserved for events, including the Villa, pool terrace, and rooftop lounge.
The staff at NOBU is friendly and engaging, providing attentive service that doesn't feel snobby. A walk through the hotel lobby always finds a cordial greeting, and any request is met with a speedy reply.
NOBU and Porsche
NOBU has partnered with Porsche Cars North America to create the Porsche Icon Suite and the Porsche Classic Room, featuring Porsche-themed design elements and custom themed amenities. Packages are available that include dining, champagne, and Porsche-themed gifts.
The NOBU-Porsche partnership also includes all-electric Porsche Taycan house cars for complimentary guest transportation. NOBU's "Porsche Pilots" will deliver you up to 3 miles of the hotel, and pick you up with a phone call. This service alone makes NOBU a compelling option for a weekend getaway. Park the car in the hotel lot when you arrive, and simply take a Porsche around town!
We thought of a few excursions within three miles of the NOBU Hotel that would add some spice to a weekend away:
Take in a concert at the Buckhead Theater. Enjoy the show without a worry about traffic, parking, or having one too many drinks.
Experience the natural side of Buckhead at the Blue Heron Nature Preserve. Nature trails and wildlife are a great way to disconnect from the hum of the city.
If you really want to take a hike, you could jump on nearby PATH400 and walk north to Mountain Way Common or south the Miami Circle. PATH400's unique city views and public art are definitely worth exploring. When you have walked your fill, call for a Porsche ride back to the hotel!
NOBU Restaurant
One of the most sought-after reservations in town, NOBU Restaurant proves it is worth the wait from the moment you walk in. Covered patio seating welcomes you for a pre-dinner cocktail, while the beautiful dining room reflects the subtle design and organic materials from the NOBU Hotel.
Dinner lives up to Chef Nobu's reputation. The Nobu Old Fashioned cocktail, made with Japanese whisky, was one of the smoothest I have ever had.
Signature dishes like Black Cod Miso, Rock Shrimp Tempura, and Yellowtail Sashimi do not disappoint. The Rock Shrimp Tempura was perfectly cooked beneath crispy batter, and the Yellowtail reminds you how good sashimi can be.
There are lots of dining options in the neighborhood, but we wouldn't blame you if you had dinner in the hotel each night of your stay.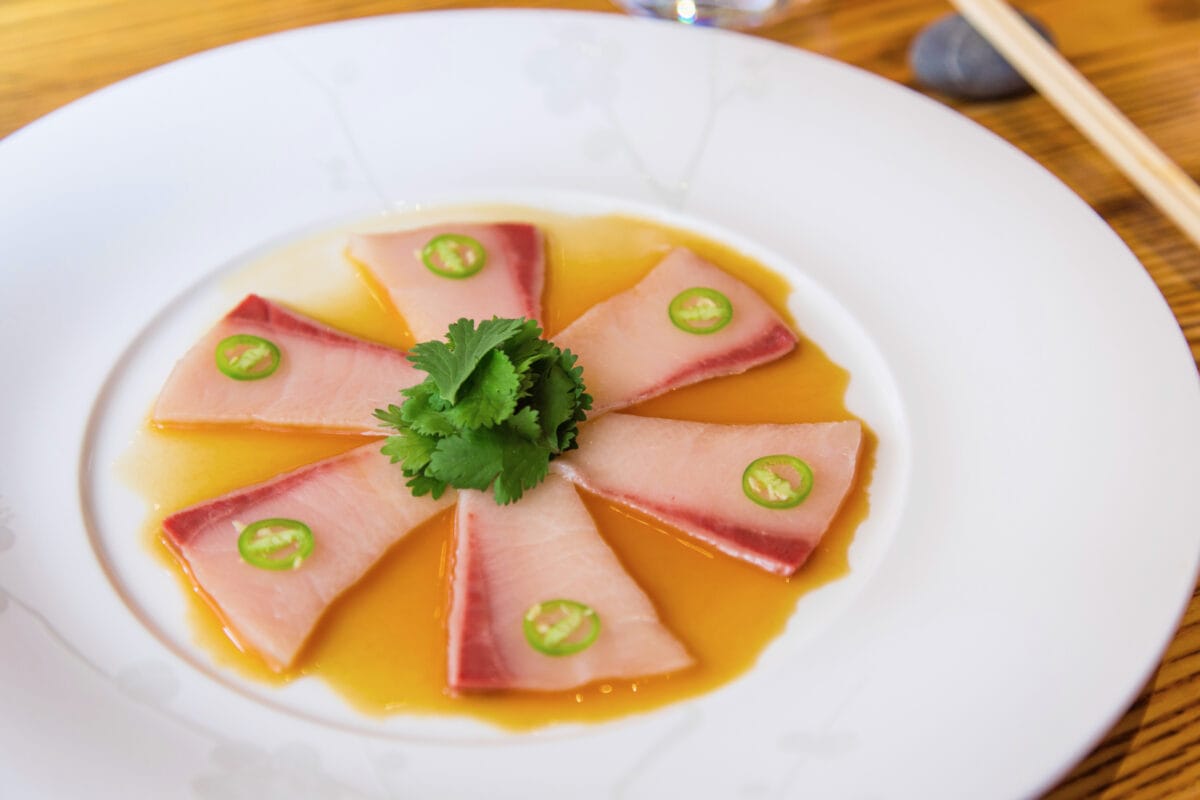 The Green
A short stroll across NOBU's driveway finds you on The Green. The manicured outdoor space has lots of different chairs and tables for dining, drinking or just enjoying the weather. The Green is surrounded by NOBU Hotel, Life Time Fitness, Phipps Plaza, and the One Phipps Plaza office tower. The surrounding buildings give the green a secluded secret-garden feel that helps a visitor feel far removed from the hustle and bustle of the surrounding city.
Life Time Fitness
Grab a day pass for Life Time Fitness to enjoy the gym, spa, and rooftop Beach Club. Studio, cycle, and yoga classes, plus Life Time's own GTX and UltraFit classes offer something for everyone. Book a post-workout massage, manicure, or salon treatment before heading to the roof for a snack and a cocktail. Parents will appreciate the 2.5 hours of Kids Academy (AKA built-in childcare) included with your day pass!  
Citizens Market
The lower level of the Life Time building is home to the Citizens Market food hall. Enjoy 8 chef-inspired restaurant concepts situated around a central dining area. Samoto, Krispy Rice, and Umami Burger are just a few recognizable names. The central Citizen Bar has seating inside and out, with convenient service to The Green. We are talking about several of the best new restaurants in Atlanta, and we haven't gone more than 100 yards from the hotel!
Phipps Plaza Shopping
It is quite a luxury to have the southeast's premier shopping destination just across the Green. Sacks Fifth Avenue, Nordstrom, Givenchy, Gucci, and dozens of other luxury brands provide ample opportunity to put your credit cards to work. Take a break from shopping and check out the latest movies on the big screen at AMC Phipps Plaza theater, or use your imagination and engineering skills at the new LEGO Discovery Center.
The amenities, and restaurants at Phipps Plaza, plus complimentary transportation to many other local hot spots, make NOBU Hotel Atlanta the perfect headquarters for your next Buckhead staycation.