Buckhead's long-anticipated West Village police mini-precinct opened its doors June 29 with a ribbon-cutting and a show of political unity between the mayor and the governor.
The new precinct is part of the Atlanta Police Department's response to a crime spike that was a political nightmare for former Mayor Keisha Lance Bottoms and a major motivation for the Buckhead cityhood movement. After her controversial responses to crime in 2020, Gov. Brian Kemp authorized the National Guard to act as law enforcement in the city if necessary.
New Mayor Andre Dickens has set a different tone, appearing in Buckhead frequently, pledging to fight crime, and building relationships with Republican state leaders. That culminated in Kemp's appearance at the ribbon-cutting, where he and Dickens smiled frequently while touring the new precinct.
Some members of the pro-cityhood Buckhead City Committee were in attendance as well, with one holding a sign complaining the event was more of a photo opportunity than a crime reducer.
Dickens told a reporter in response to such concerns that "I go by data," and that data shows APD's crime-fighting efforts are working.
Kemp praised Atlanta as a great city and touted his own legislative priority, recently approved by the Georgia General Assembly, of creating a task force against street racing. He has not taken a position on the cityhood issue and did not refer to it directly.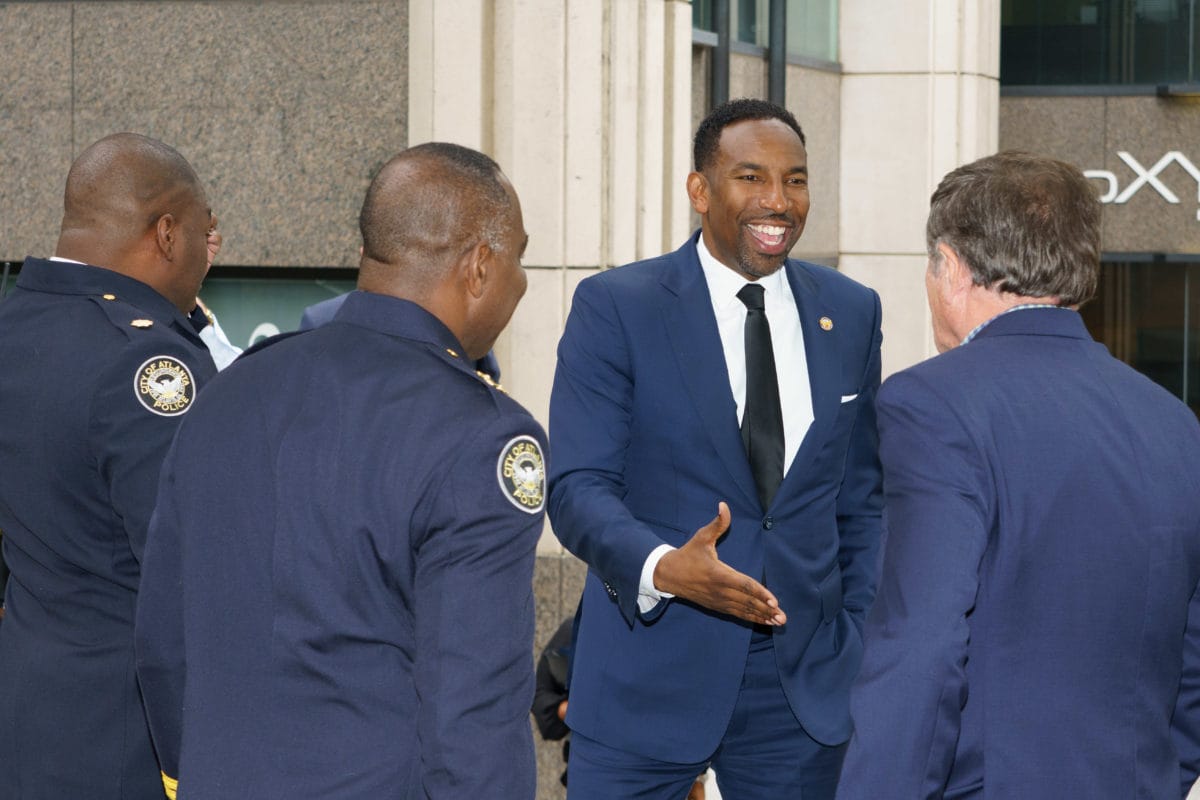 APD Interim Chief Darin Schierbaum noted that the podium at which leaders spoke bore the Atlanta seal and said the department takes seriously the responsibility to protect the city. APD officers made a show of force at the event, including motorcycle, horse and SWAT units.
The precinct is funded through public and private sources. The partnership includes the nonprofit Atlanta Police Foundation, the Buckhead Coalition, the Buckhead Community Improvement District (CID), and landlord Cousins Properties. Juanita Baranco, the Coalition's board chair, told the crowd that she has a friend whose child was killed in street racing and she thanked Kemp for his efforts on the issue.
Among other leaders in attendance were Jim Durrett, the head staffer of both the Coalition and the CID; City Councilmember Howard Shook of Buckhead's District 7; and state Rep. Betsy Holland, who represents a large section of the neighborhood.
The mini-precinct is within One Buckhead Plaza, a mixed-use center at West Paces Ferry and Peachtree roads. According to Maj. Ailen Mitchell, the commander of Buckhead's Zone 2 precinct, its focus will be traffic enforcement to free up other officers to do pure crime-fighting. It is staffed by 12 officers and heavily uses bicycle patrols.
The mini-precinct includes training rooms, meeting spaces and a commissary. During an official tour, the food offerings drew a joke from Kemp.
"I bet they didn't have doughnuts until y'all got here," he said.
"I'll be honest with you. We requested those," Mitchell admitted to laughter.
Zone 2's main precinct is on Maple Drive, and it also has a mini-precinct within the Lenox Square mall. Baranco said she and Mitchell have discussed adding three other mini-precincts, but a Coalition spokesperson later said there are no plans to do that in the "immediate future."
Photos and reporting by Rob Knight.