Canterbury Court has been an integral part of the Buckhead community since it opened in 1965. The recently expanded campus will be home to over 500 senior adults, nearly double the previous capacity, in what is referred to as a Life Plan Community. With multiple restaurants and myriad amenities, Canterbury Court feels more like a resort than a retirement community. The fact that Canterbury Court refers to internal sections of the campus as neighborhoods speaks volumes about the culture of the staff and residents.
The connection to the greater Buckhead community is an important aspect of life at Canterbury Court. President and CEO Debi McNeil said, "More than 60% of our residents come from [the Buckhead] area and have lived here most of their lives." She continued, "It means a lot to be part of the city, to be in the heart of it. Not to be isolated. People want to be near their families, they want to be near the things that they know and love, and to be part of that same environment they were always in."
McNeil says the expanded medical facilities in the new Monarch Tower allow Canterbury Court to have "state of the art, healthcare, and spaces that people want to be a part of that still feel home-like and residential."
About the campus
Residents enjoy independent living in 323 apartments across 4 residential towers. When their needs change, they can seamlessly transition into the assisted living and skilled nursing facilities on-site, including 42 assisted living apartments, 40 Skilled Nursing apartments, and 21 memory support apartments.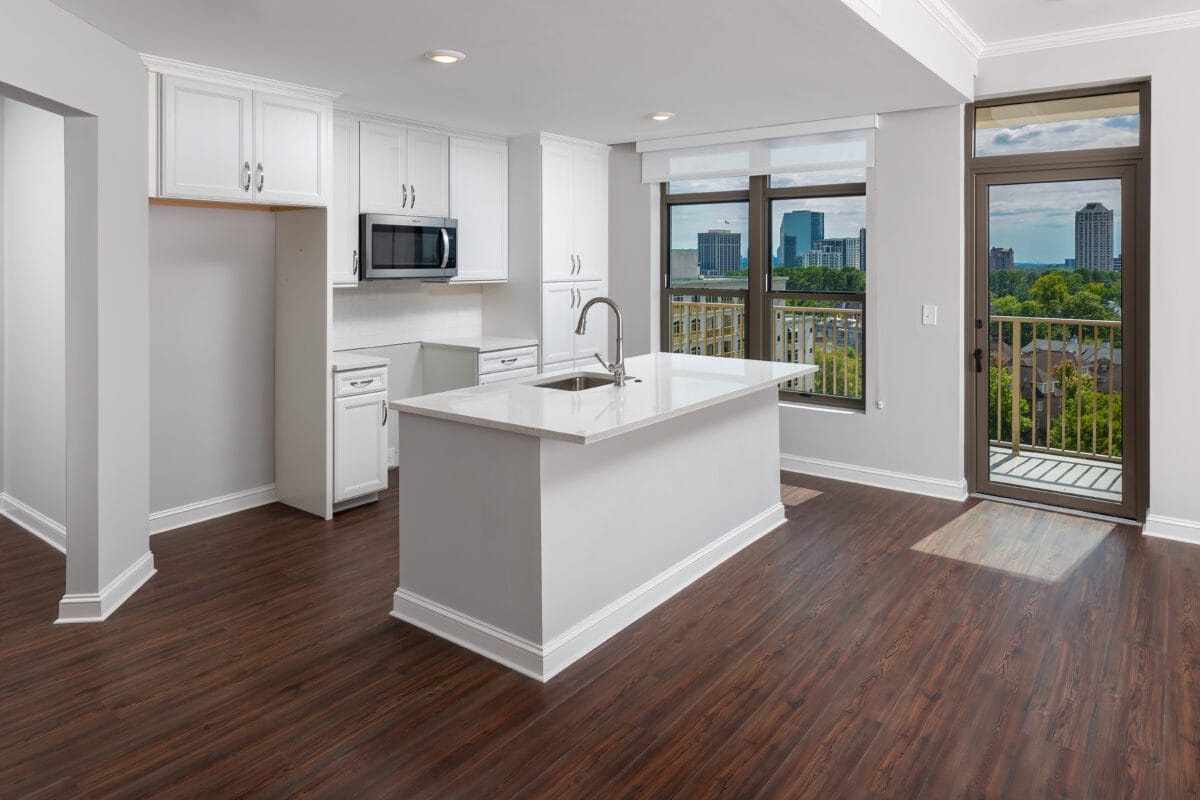 Independent living and healthcare are in separate neighborhoods, but everything is still connected and integrated. Healthcare residents are encouraged to participate in activities in the main buildings, but there are separate activities and events in the Monarch Pavilion. McNeil said the path from independent living to healthcare is not necessarily a straight line. "We tell people just because you go to HealthCare doesn't mean you're never coming back."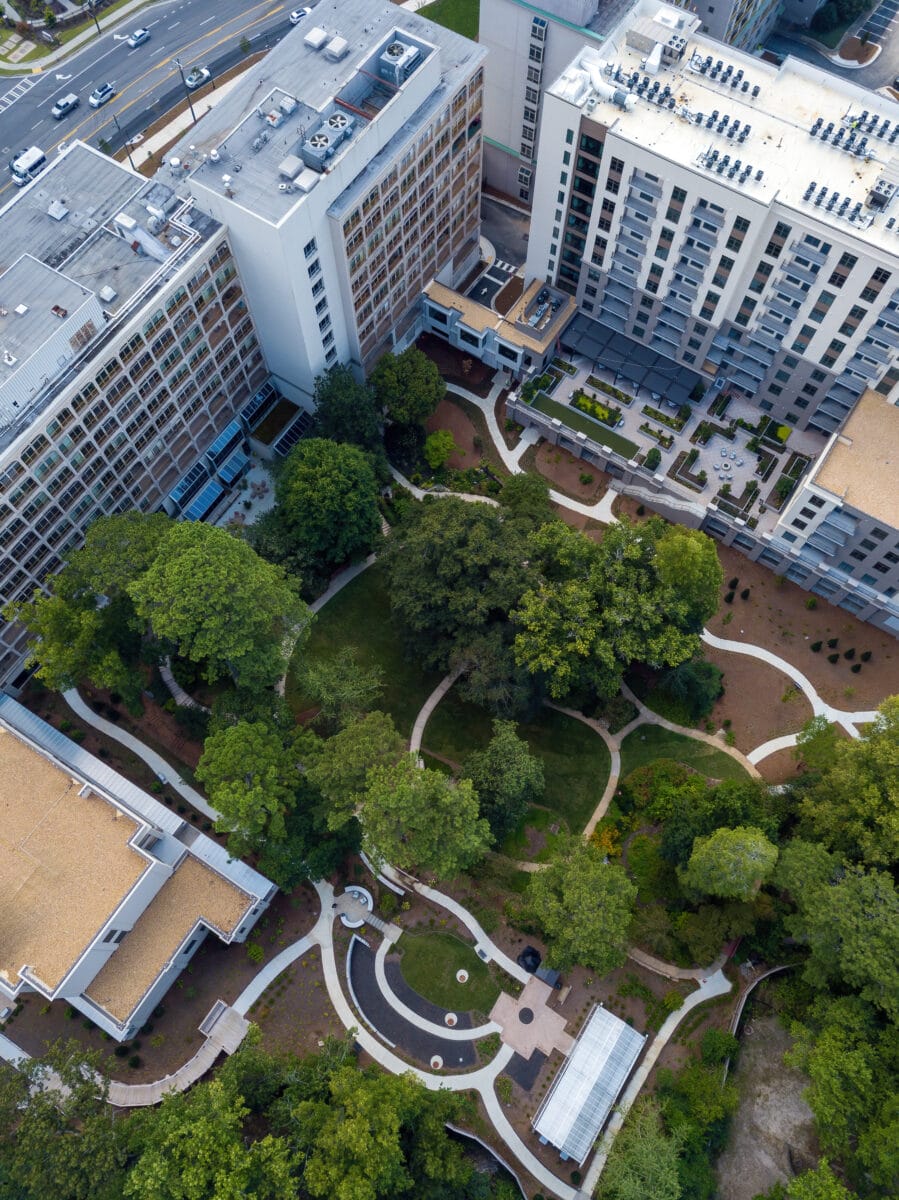 The grounds are an important component of life at Canterbury Court. The 14 acre campus includes lush gardens with over a mile of walking trails, along with a recently added state-of-the-art greenhouse and residents' private garden beds. A new 8,500 square foot landscaped terrace known as the Overlook has expansive garden views, a bocce ball court, putting greens, and more. A 10,000 square foot secure therapeutic green space was recently added for the exclusive use of the memory care residents.
History of Canterbury Court
Frank Player and Margaret Hancock conceived the idea for a new retirement home, and asked rectors of Atlanta's All Saints' Episcopal Church and St. Luke's Episcopal Church to sponsor the project. From the Canterbury Court website, "Their idea was to create a community where older adults could live and share a joyful lifestyle, with a continuum of care to meet changing needs." Their dream was realized when Canterbury Court, Atlanta's first Life Plan Community, opened in 1965.
The original Club Tower is still recognized for its striking mid-century modern architecture. The Peachtree Tower opened in 1991, and the Vermont tower in 2005, both echoing the style of the original tower. The latest additions to the campus are a departure from the original design, while still visually integrating with the existing buildings. Debi McNeil said of the Garden Tower and the Monarch Pavilion, "I always like to say they're not twins, but they're definitely sisters."
2023 expansion
The Garden Tower and Monarch medical Pavilion represent the largest expansion of Canterbury Court to date. The new facilities add 133 independent living apartments and more than 40 apartments in the healthcare neighborhoods. The expansion doubles both the square footage and the number of residents.
Dedicated memory care apartments and the 10,000 square foot private memory care garden are important additions to the Canterbury campus.
Board Chair David Aldridge says discussions about expanding Canterbury Court began in 2016, "We came away with aggressive goals, not just to have adequate health care facilities, we want it to be best in class." Aldridge continued, "We needed to reach a higher level of operating efficiency, and that meant we needed to expand our independent living campus alongside our healthcare. These two go together like hand in glove."
What's next for Canterbury Court?
The next project for Canterbury Court will be adding to the green space. After purchasing three adjacent homes along Vermont Road, Debi McNeil explains, "We are going to be working with the Neighborhood Association and the city through the zoning process to take those homes down and add another 1.3 acres to our green space."
Canterbury trustee and chair of the Enrichment Project Oversight Committee Larry Lord spoke at the grand opening of the Garden Tower and Monarch Pavilion. His remarks summed up the impression we got from all of the residents and staff we spoke to, "Our campus is truly a testament to our commitment to progress, the enrichment and bettering our residents' lives and to the bright future that lies ahead for Canterbury Court. May the Monarch Pavilion and Garden Tower along with our existing facilities continue to bring joy, comfort, and a sense of community and pride to all those who call Canterbury Court home. May the winds of inspiration and hope forever grace the halls of Canterbury Court."