The Buckhead Village District is at the heart of the community's main shopping and dining area. The village encompasses six city blocks, centered around Buckhead Avenue just east of Peachtree Road. Within this relatively small footprint you will find many of Buckhead's most luxurious brands, like Hermés and Brunello Cucunelli, and some of the city's best restaurants, such as Le Bilboquet and Le Colonial.
Jamestown took over the project, previously known as "The Shops Buckhead Atlanta," in 2019. The Atlanta-based real estate development and management company sought to reinvent the Village and build it into a retail and dining destination. Recently released sales figures indicate that they have done a great job so far.
Twelve new leases were signed in the past year in the Buckhead Village, and eight tenants renewed their leases, totaling more than 47,000 square feet. Same store sales for last year are up 33.1% versus 2019 numbers. Luxury fashion retailers reported a 62.6% gross sales increase in 2022 over 2019 volumes, and contemporary fashion retailers exceeded 2021 gross sales by 21.5%. Buckhead Village's food and beverage tenants saw their highest sales ever in 2022.
We spoke with Director John Wilson with Jamestown to find out how the company planned the development of The Buckhead Village, how the community has shaped the direction of the neighborhood, and how Jamestown sees the Village going forward.
Community input drives development
Jamestown held town-hall style meetings to hear from the community when they took over the property in 2019. Director Wilson said this is standard practice when the company acquires new projects, but they felt it was particularly important with Buckhead Village. These original meetings shaped the development to this day. "We have our own ideas, but for a project to be successful, it needs to reflect the goals and desires of the community and the people who are going to come there, day in and day out." Wilson continues, "So that's what we did. And I would say, by and large, the themes we heard in that dialogue have remained true. Even sitting here today in 2023."
Wilson explained that the attendees in these early meetings included residents of the Village and surrounding neighborhoods, as well as business owners and people who live and work in the immediate area. He said he believes that "it was a good cross section of all of those types of users."
We asked Wilson how the clientele has changed since Jamestown took over in 2019. "I don't know how much the profile has changed, but it certainly feels like there is a higher quantity of people coming to Buckhead village." He points to the increased residential development in the Village as one source of the higher customer volume. "There's just more density around us. Whether you think about condos and new apartments that have come over the last couple of years, or even ones that are planned."
Neighborhood growth around the Village
Jamestown is pleased to see residential development grow alongside the retail development in the Village. "We invested in Buckhead Village from the standpoint of creating a community center that brings people together and gives people a reason to gather. And we've done that in a lot of different ways," says Wilson. "The whole point is to make an improvement to the quality of life that makes it a more desirable place to be. So we're happy to see that kind of growth and progress in the neighborhood."
Housing density is a point of contention among some Buckhead residents outside of the Village, but Wilson explains how residential options in Buckhead's business district help drive business in the Village. "I think that just helps helps create an environment that is more dynamic when you get more people walking on the street, more things to do, and more reasons to come there." As more residents move into the Village, retailers and restaurants are encouraged to open in the neighborhood. When there are more desirable retail and restaurant options, the neighborhood becomes more attractive for potential residents.
Who visits the Village?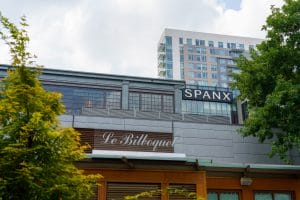 Visitors to Buckhead Village might experience a totally different demographic depending on when they visit the area. Early in the morning you might see the fitness crowd on the way to a yoga or pilates class. Lunchtime finds business men and women enjoying the outdoor spaces and having lunch. Neighborhood residents and visitors are drawn to pubs and restaurants in the village each evening.
Wilson says the weekends are the busiest time for Village merchants because of visitors from outside the neighborhood. "Saturdays tend to be our busiest day. We get people from all over and it's becoming more of a regional destination where people bring their families. You see mothers shopping with their daughters for the day, or people celebrating a birthday or an engagement or something like that."
Responding to community needs
Jamestown is constantly looking for ways to engage the community and attract more visitors to the Village. Adding more outdoor gathering spaces were an early priority for Jamestown. The Veranda was created to provide visitors with a place to stay longer and enjoy the Village outdoors.
Fetch Dog Park was another response to a need in the community. Research showed that there are over 90,000 dogs in the Buckhead community, but there were not many places for residents to walk their pets. Jamestown converted a little-used surface parking lot into a convent dog park, complete with dog washing stations and a full bar for the owners.
The recent "Bodacious Blooms" flower festival attracted 20,000 people to Buckhead Village in one weekend. Buckhead Avenue was closed to vehicle traffic to create a pedestrian friendly festival with displays, shopping, and live music. Many Village retailers reported their busiest sales weekend ever during the event.
Jamestown has a lot to be excited about in Buckhead Village. Wilson says he is excited to be part of the team that has brought so much growth to the community. The team is proud of the variety of retailers in the Village, from local entrepreneurs like Abbey Glass to global luxury brands. There are more retail brands coming that will be announced toward the end of 2023. Even now, most of the 70 storefronts in Buckhead Village are accounted for. It is nice to see the Buckhead Village District thriving under Jamestown's community-focussed leadership.