Stepping inside of artist Ross Rossin's workspace is a bit of a head trip. Massive hyper-realistic portraits hang on the walls, the subjects' steady gazes calmly looking out across the clean and open space. Rossin's portraits have a uniquely captivating quality that draws viewers closer not only by the impressive detail and nuanced brush strokes but also by the spirit that seems to seep out of each canvas. In fact, Rossin's work is so realistic that many viewers initially can't believe that the portraits are paintings and not high-resolution photographs.
"Physical likeness is where I start, the journey begins there," explained Rossin. When approaching a new subject he typically studies them for only about 5 minutes, snapping photographs to reference later and then, crucially, he stares deep into the person's eyes. This examination, if you will, is part of what Rossin considers to be a "silent dialogue – a somewhat mystical dialogue" between the artist and the subject that begins when face to face but continues on long after the subject has left and Rossin works alone with a canvas and his brush.
"It is as intimate as you can get," Rossin said, speaking of the humanity that he seeks to encapsulate with every subject who sits for him, regardless of their position or status. His work bridges the gap between artistry and psychology with just a hint of mysticism. When displaying these works, he facilitates a further conversation between subject, artist, and now, the viewer.
"That's intimacy shared with the world."
Inspired by the great masters such as Rembrandt and Leonardo DaVinci, Rossin has been painting since he was only 6 years old. He earned himself a place in prestigious art schools from an early age and as a young man experimented with surrealism and abstraction but found that his true love was realist oil paintings. "Ever since I've done absolutely nothing else," he said.
Originally from Bulgaria in Southeast Europe, Rossin's mother was a librarian and his father an electrician. While the family supported his passions it was largely up to him to forge his own path in the art world. After graduating from the National Academy of Arts in Sofia, Bulgaria the political climate of the region opened up opportunities for travel, and he spent five years in Japan painting portraits for business leaders and political figures. Rossin's reach expanded, leading to exhibitions in France, England, Belgium, and Germany, and commissioned portraits of political figures such as the President of the Republic of Cyprus, President of the Republic of Bulgaria, and the Lebanese Patriarch.
Later, five years of study and work in India became the inspiration for an exhibition titled "Ultimately Human" for the United Nations at the UN Headquarters in Geneva, Switzerland. The portraits featured ordinary people he met on his travels alongside influential individuals such as Jimmy Carter, Ted Turner, and Desmond Tutu of South Africa.
Rossin and his wife Ava moved to Buckhead 18 years ago with their newborn son, Michael, and fell in love with the community and the art scene in Atlanta, settling down and later welcoming a daughter, Savannah, in 2015. "That's how I know Atlanta – through Buckhead." Locally his portraits of Paul Coverdell, Sonny Perdue, Roberto Goizueta and Douglas Ivester, Mike Bowers, and William Chase have all been received with great acclaim.
You may have also seen Rossin's work when visiting Suntrust Park, as he was commissioned to create a nine foot sculpture of Hank Aaron swinging a bat, or perhaps you have seen the busts of VIPs on display at the Mercedes Benz Stadium.
That's right – in addition to being a world-renowned painter, Ross Rossin is also a talented sculptor.
Rossin's resume is impressive to say the least. He has four works on display in the permanent collection of the Smithsonian's National Portrait Gallery in Washington, DC depicting Hank Aaron, Andrew Young, Morgan Freeman, and Maya Angelou. The United States Forever Postage Stamp was unveiled in 2015 featuring Rossin's portrait of Angelou, and the Atlanta Center for Human and Civil Rights opened a museum based around his paintings of 7 key globally-recognized activists.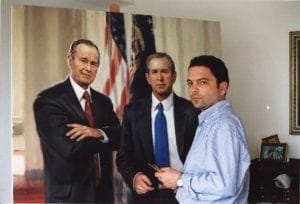 Political figures have always interested Rossin, and a painting of George H. Bush and George W. Bush was installed in the George H. Bush Presidential Library and Museum as well as a portrait of King George VI that was gifted to Buckingham Palace. Though most gifts are rejected by the Queen, she loved the portrait of her father so much she graciously accepted the gift.
It was when watching the King's Speech that Rossin was struck by an interest in the portrayal of King George VI and decided he wanted to paint him. "I was just intrigued by his personality and his character," he explained.
Rossin then contacted his friend, the Counsel General of Britain, and proposed the idea of painting the now deceased monarch as a gift from the people of Georgia to the Queen of England for her Diamond Jubilee, a multinational celebration in 2012 to commemorate 60 years since Queen Elizabeth had ascended to the throne.
"We only have one or two black and white images, so why not bring him to life?" Rossin posed.
A couple of months after offering the portrait to Buckingham Palace, Rossin heard from the Counsel: the Queen accepted the gift, loved the portrait, and wished to hang it somewhere in Georgia. Today, it is on display at the British Consulate General here in Atlanta and remains a part of Her Majesty's personal collection.
One of Rossin's portraits of Paul Harris, the founder of Rotary International, fetched a hefty $170,500 for the Rotary Foundation, and he was named a Paul Harris Fellow and Polio Free World Hero.
Recently, a 13' x 20' portrait of United States Presidents of the 20th century was purchased for a "significant amount" by the family of Harry and Brenda Patterson to display in the Presidential Gallery, and later the couple commissioned two additional canvases to include every president of the United States.
The works will be displayed at the Booth Museum and periodically travel as an exhibit through 2020. These days Rossin can be found working on site at the Booth Museum, and those interested in following along can visit the museum in person or watch the livestream online as he develops this large-scale painting over the next 12 months.
Rossin's portraits start at $16,000 each and typically take around 10 days to complete. Or rather, that's 10 days plus 48 years corrected Rossin, noting that his artistic confidence is due to not only his talent but also nearly half a century of experience. The fees are established on a case-by-case basis between painter and client and depend on the size, complexity, and detail of the painting. He has always leaned towards large scale works, and he averages around 40 completed pieces a year. Rossin continues to endlessly pursue beauty and connection in his work, achieving deeper and more personal works with every stroke of his brush.
"Paintings and sculptures, they last for centuries, so they had better be good" said Rossin. Indeed, he has not only immortalized notable figures of local and international politics, fame, and prestige, but he has also ensured that less-known individuals have been recorded in not just their image, but also their spirit, for generations to come.
Learn more by visiting Ross Rossin's website or following him on social media.