The future looks bright for an established Buckhead bakery that has been a mainstay for locals for decades. Henri's Bakery & Deli was established in 1929 by Henri Fiscus, an immigrant baker born in France to French and German parents. After WWI a young Henri traveled to the Northeastern United States to work in restaurants in New York and Rhode Island before accepting a job as pastry chef of the Biltmore Hotel in midtown Atlanta.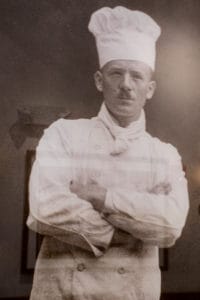 By all accounts, Henri was an extraordinary man who was full of passion for baking. After six years of working at the Biltmore he pursued his pastry dreams even further by purchasing a French bakery at the corner of 10th and Peachtree Streets in midtown, opening the first Henri's Bakery and Café at the site. His innovative recipes and innate understanding of French and German baked goods made him a legacy within the community.
"You know, he was something Atlanta hadn't seen before," said Madeline Leonard, Henri's granddaughter who grew up helping out at the bakery, ran the shop as President for 43 years alongside her siblings Michelle Teihaber, Mimi Veerkamps, Ray Bell, and Suzette DiNardo, and still picks up shifts there a couple of days per week. "Oh my god, I wish you could have met him, he was just… he was amazing, he was very talented and very, very generous."
With a reputation of excellent customer care and attention to detail his business flourished and expanded, first moving the shop to Rhodes Center, Peachtree Palisades, the corner of Peachtree and Piedmont Roads, and then to Irby Avenue in 1969 where the bakery became a beloved Buckhead treasure for nearly 5 decades until the 2017 move to its current location.
Henri was a fixture in the local food scene for his entire career, making many friends along the way. Madeline grew up visiting her grandfather at the shop after school and on weekends. She recalls fondly his patience and his infectious sense of humor. Always the provider, Henri would make all of the family's holiday meals at the bakery, made a daily post-lunch-rush meal to be shared at a large table in the back with his staff, and sent Madeline to school every day with a perfectly packaged white box containing a roast beef sandwich and chocolate eclair, a meal that she would often exchange for lunches that were more exotic to her such as PB&Js.
Madeline remembers one instance when she was around 6 years old and Henri helped her to pass the time by allowing her to frost the bottoms of cake pans in the kitchen. Little did they know that one day she would grow up to take over the business and use those very skills in making products for the bakery.
In 1974 when Henri passed away one day shy of his 80th birthday Madeline was only 23 and working as a flight attendant. She stepped up to the challenge and learned how to run the business with help from the kitchen workers and chefs who had worked with her late grandfather. "When you're talking about those huge mixing bowls, it's not a pound of dough, it's like 30 pounds. That was hard but I was lucky that many of the guys who had worked for him were still around at that time," Madeline explained. She worked both jobs simultaneously for five years and enjoyed increased popularity as a flight attendant thanks to the delicious cakes she would bring on board her flights for the crew to share.
Henri's Bakery & Cafe recently changed hands once again and was purchased by Henri's great grandson Anthony DiNardo who took over as President in 2016. He later enlisted his sisters Kim MacBain and Ashlyn DiNardo to help in supplementary roles within the company. "I still work here a couple days a week just really because he can't get rid of me," Madeline said with a laugh.
It would seem that Anthony, Madeline's nephew, has been ready to take over the family business for some time now. Though he never met Henri, the stories of his great grandfather continue to influence his decisions for the business and he is aiming to bridge the gap between regular clientele who have been frequenting Henri's for decades with a new, younger set of customers. This has resulted in a reaffirmation of the recipes and practices established by those who came before, a revitalization of certain dishes to meet the demands of an increasingly health-conscious client pool (keep an eye out for more salads and gluten-free options on the menu), meticulous design choices that hint at the business' long history, and modern necessities such as wifi and other technological advances.
One of the most important design factors that Anthony felt was a necessity to incorporate was the iconic Henri's Bakery sign that sat atop the Buckhead location for an unknown number of years. "One of the things that was most important through this transition was – how do I tie 89 years of history with the new changes?" Anthony posited. "One of the things that was super important for me was kind of like sticking our flag in the ground – when we relocated in Buckhead it was figuring out how to get the old sign from the building. I don't have an exact year, but we know based on photos that it's over 50 years old. We think it might be like 60, 65 years old."
Moving the sign was a huge undertaking which required lots of collaboration with city officials, logistics, careful planning, and the introduction of an ordinance that would allow the shop to install a large, historic sign. "The sign was a big investment, it was a long process but we got it done and the community has loved it," he said. It was a design choice which to Anthony was a total no-brainer, just like the decision to keep Henri's in the family instead of selling it to an outside buyer.
The Andrews Square Henri's location pairs updated interiors, sleek design choices, and coffee from a hip local roaster with 1920s-inspired details, a custom retro font for the logo and signage inside, and vintage photographs, all crowned by the iconic Henri's sign atop the building. Anthony has ensured that Henri's has managed to unite the old with the new in a manner that seems to be resonating with their clientele and encouraging new visitors to frequent the shop.
"I have a vision for where we are at now and where we want to go, but I also respect what has been done up to this point," said Anthony, whose background in the corporate world lends him some wisdom for how to not only maintain Henri's popularity, but also expand even further.
"We are definitely growing, we are growing faster than I even expected," he said with a laugh, "so now it's important to get some of these systems and parameters in place to make sure we can uphold the quality and experience that people have grown to love our current stores for any future stores that we have." Recent expansion includes a third location on the Upper Westside and a commissary to aid in providing fresh baked goods to all locations. Their signature breads are baked daily and delivered by 5AM to each location, something that Anthony feels sets them apart from the crowd. 
"I'm really blessed," concluded Madeline, "it's a great business, my grandfather is a great person, and I was blessed to be able to continue it. I'm excited and thrilled that Anthony is going to keep it going and maintain that legacy."
Celebrations of Henri's 90th anniversary will kick off on Saturday, September 28, 2019.