New York-based developer Tidal Real Estate Partners has big plans for a new 20-story building at 321 Pharr Road, just two blocks from the Buckhead Village District. Tidal representatives gave a brief presentation to the Buckhead Review Committee on February 1, 2023, as their proposal works its way through the City of Atlanta's zoning process. Developers have the support of the Garden Hills neighborhood, and expect to have zoning approval soon.
The project, targeted for late 2025 completion, will include 406 apartments and 18,500 square feet of retail space. Residential units will occupy the upper levels, with four retail spaces facing Pharr Road and North Fulton Drive. The building will encompass the entire block, except for the Exxon gas station at the corner of Pharr Road and Grandview Avenue. Currently, the site is home to several small businesses and a 3-story office building.
Community Impact
Proposed amenities for the building include a 500-space parking garage. Developers are working to mitigate the increased traffic that such a property will generate. Specific plans are in the works to limit the impact on local traffic, such as controlling traffic direction to and from N Fulton Drive and Pharr Road, and shared loading docks on Grandview Avenue.
The plans include a green space behind the building that could include a small publicly accessible park. Although the current diagram shows the green space spanning the back of the building, developers say the final design will most likely include a "pocket park" that will not go all the way through the property. Final plans could include a dog park or other exclusive use for residents.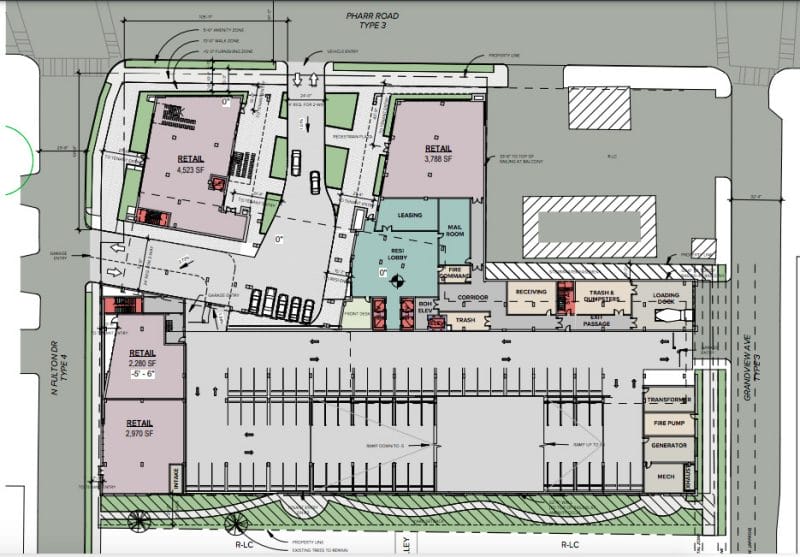 High end apartments, with subsidy for Zone 2 officer
Rent for the apartments will be among the higher end for the neighborhood. One-bedroom units are estimated to start around $2,800/ month, and larger units estimated at $5,200/ month. Plans call for one or two floors of premium units at the top of the building to take advantage of the great views. Also interesting to note will be larger units with outdoor space that give the feeling of a house with a yard. These three-bedroom units are designed to appeal to residents moving from a single-family home.
One unit will be ear-marked for a Zone 2 Atlanta Police officer. The apartment will include a subsidy of one half of the rental amount for up to five years. This program is led by Livable Buckhead and funded by Buckhead CID to encourage officers to live in Buckhead.