Just off Fairfield Road, near the intersection with Broadland, sits a large field. Once part of Mayor Ivan Allen's family property, the sprawling field dotted with trees is now populated by masses of young girls kicking soccer balls back and forth, their parents encouraging them from the sidelines. Orange cones mark the edge of small fields with lines painted onto the grass. Water bottles and gym bags are piled up next to parents watching their children play. Cars pull up in the parking lot casting clouds of dust into the air around them.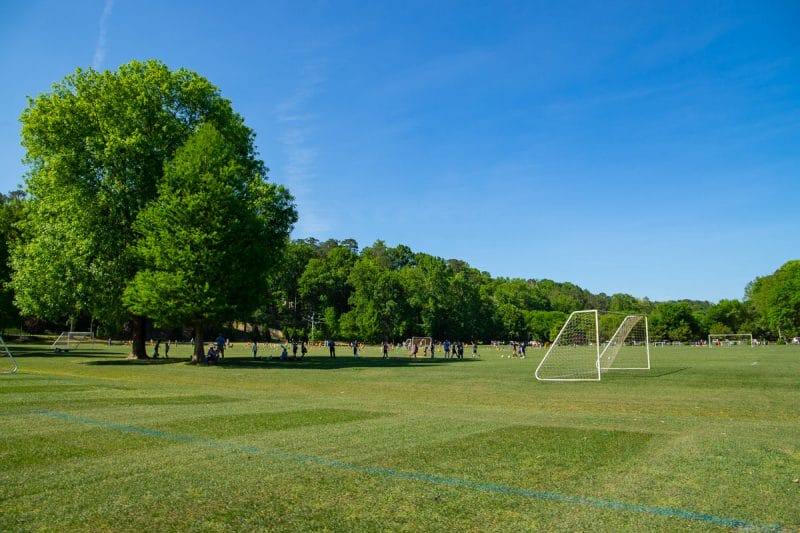 The sound of parents and coaches shouting punctuates a rumble of footsteps as players run and maneuver around one another. Hawks screech, swooping through the air far above the clearing as the summer sun bears down upon the earth. In the distance, a tall figure holding a clipboard waves to me, hops onto a golf cart and trundles in my direction.
"I'll tell you the honest truth – when we first started it I figured if we can somehow get 100 girls involved in some kind of little game, whatever we can get, that would be the neatest thing in the world," explained Tophat founder Cy Stricker as we sit together in the shade of his golf cart. "We've gotten up to 1500 and I mean, with a waitlist of 1000. It just got out of hand."
Cy is a gentle spirit. A father to five girls and now a grandfather, he has built a family legacy on these fields. As a young man Cy joined the Navy and flew fighter planes in combat in Vietnam. He was in the Navy Fighter TopHat Squadron, VF-14, the nation's oldest active Squadron. "It was the hottest thing in town, oh man did we have a good time," said Cy about his military service. "That was the good old times." He considers the camaraderie and brotherhood that he felt from his time in the Navy akin to the kind of teamwork kids experience while playing sports such as soccer. Later, Cy went on to become a pilot for Delta until he retired 20 years ago.
In 1982, Cy was a father of two young daughters who were just getting interested in soccer. He had played the sport when he was young but the opportunities for an adult to play were few and far between. "It just didn't exist in the 50s and 60s, not in this country" he said, explaining how the dearth of sports opportunities for young girls was an issue that was very close to his heart, especially as his family continued to grow. He started the Tophat Soccer Club, named as a nod to his military career, at the Northside YMCA.
"My original idea was to make this a community girls club so they could have some of the stuff that all the boys got to do. You know, baseball, and Buckhead Baseball, and all the football teams and all that," Cy explained. "I had five daughters and I didn't know what to do with them."
"I always wanted to be a camp counselor anyway so it worked out perfectly," Cy said with a laugh.
When he was himself a child in Buckhead he was classmates with a fellow student named Ivan Allen III, son of Ivan Allen Jr., the owner of Ivan Allen Furniture Company and mayor of Atlanta during the 1960s. Ivan Allen Jr. married Louise Richardson of the prominent Buckhead Richardson family, who owned a good bit of land nearby. Cy recalls that they built a home near the bend in Northside nearby and he was aware that the family had a decent bit of land along the creek, land that Cy remembers being mostly impassable jungle. When his burgeoning soccer club needed more space he approached his old classmate Ivan and asked to use a field for the games. "He said 'sure!' So I did. And that was way back, we had just a few little girls and nobody even knew we were here." Ivan Allen III would later grow up to become a prominent Atlanta civic leader himself.
Flash forward and the fields are bustling with activity. In addition to gaining valuable soccer skills and training, the girls learn self-sufficiency, teamwork, and the value of exercise. The clubs also provide a unique opportunity for kids from various schools in and around the Buckhead community to play sports with one another.
A Family Tradition
There is possibly no one who has experienced these benefits more than Cy's own daughters, who have all participated in some way in the family venture. "It's a family requirement," said Cy. His wife Liz is also involved as Program Administrator for Tophat, taking on much of the behind the scenes work and coordination of enrollment and other big picture tasks.
"I grew up on these fields. It was my second home," said daughter Laura Owens, Program Director for Tophat. "If dad was working where was I? I was here, I was in the office, I was in the fields, I was in the creek." After high school, Laura left Buckhead to attend Ole Miss where she got her degree in Parks and Recreation. "I kind of felt like I knew I would always end up back here. It was just a question of when and how, and it just kind of fell into place." Laura came home again when she bought the house next door to her parents where she lives with her husband and two sons. "Now, with the two boys, it's perfect. They can walk next door whenever they want, and it's nice to watch my sons grow up with their grandma and grandpa right there."
Looking around today Laura can see firsthand how much the soccer club has flourished from its humble beginnings 37 years ago. "I remember the trees in the parking lot when they were planted. And I think to myself how could they have grown so much, so fast?" The office building, sitting off to the side of the fields near the creek, has walls covered in awards that hint at the club's legacy of success.
Laura is an avid soccer player who participated in the sport first at Tophat and later in college teams. These days she is trying to learn as much about the club as she can from her dad as they work side by side.
"I think about the future, I know things will change when he moves on, and I will have to make these decisions. I am afraid that when I make decisions people will say 'gosh, when Cy was in charge, it was better.' He tells me all the time 'oh, you'll be fine' and I'm like 'but you're Cy, it's different. I'm just Laura.' We will just have to see how it goes."
There is a lot of coordination that goes into managing 1500 kids on various teams at varying levels. The Little Hatter program offers teams for players as young as 4 during pre-kindergarten. Little Hatters teams are for kids under 5, under 6, under 7, under 8, and under 9. They play 4 versus 4 in teams of only 8 players, and Cy says players at these ages should be mostly focused on learning soccer foundations rather than keeping score. Little Hatters play in the fall and spring, with opportunities to participate in soccer clinics and camps during the early summer months.
Once graduating from the Little Hatter program, players join Club Teams in the Tophatter division. Ages range from under 13 to under 19, their schedule comprised of away games approximately half of the time. These Club Teams play an in-house schedule each season along with occasional tournament games and culminating with the annual Tophat World Cup.
"Tophat Soccer is nothing less than a Buckhead institution" says Ben Hirsh, father of two daughters in the Little Hatter program. "Cy and Laura have added so much to Buckhead. I think parents have as much fun as the kids do, just coming out to spend time with friends and neighbors in a beautiful setting while watching their kids play." While Cy could have never imagined the kind of growth the clubs and camps would experience, he is happy for its continued popularity within the community. In his words, "it's out of sight."
To learn more about the Tophat Soccer Club, visit their website.